A young man has been arrested after he was caught defiling a 6-year-old girl in an uncompleted building.
Abdullateef, a Legal Practitioner who shared the story on Twitter, said the little girl's scream alerted people around.
According to him, the man confessed to penetrating the girl. Read the story below…
"This filthy, despicable, loathsome, vile animal was caught in an uncompleted building beside my house this morning sleeping with a 6 year old girl.
He has since been taken to the police station and the girl has been taken to the hospital for medical examination.
If not for my intervention, he wouldn't have made it to the police station. Me sef chop beating small.
The victim's mother was distraught, the girl was brave & it was her scream that alerted us.
I'm very sad & angry. When will these stop? We need to do better as a society.
Sadly the animal succeeded and he confessed to penetrating the little girl."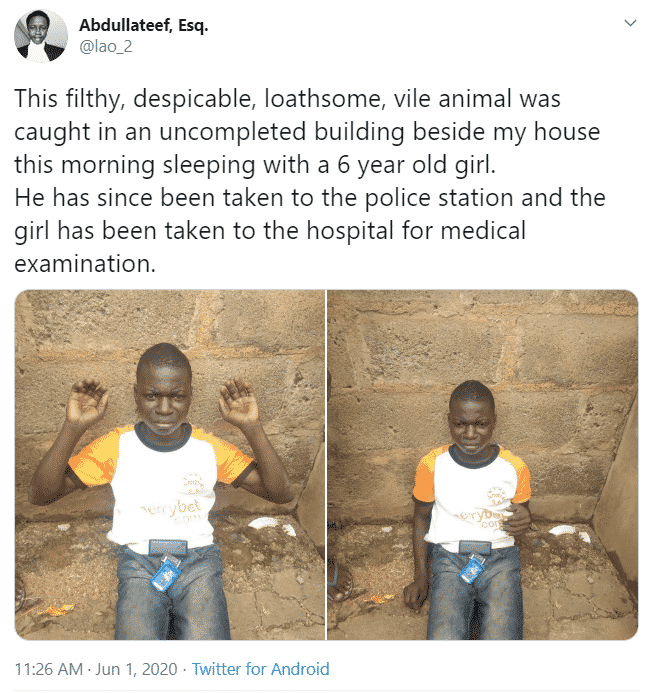 In another story, 23 year old man Uchenna Mbahotu has been arrested at Nkwo Orji Uratta in Owerri North Local Government Area of Imo State for defiling two sisters of 11 and 9 years old.
According to a statement released by the Imo State Police Public Relations Officer, SP Ikeokwu Godson Orlando, Mr. Mbahotu was arrested when the mother of the kids, Mrs. Blessing Akagha reported the case to the Divisional Police Headquarters Orji.
The release has it that Mrs. Akagha said that Uchenna Mbahotu who is their next-door neighbor, took advantage of the her daughters Chinemerem Akagha 11 year old and Nmesoma Akagha 9 year old, who were allowed to get close to him.
"However, medical examination conducted on both children, revealed that it was only Nmesoma Akagha (9 years) that was defiled"
Comments
comments