Nigeria is one of the countries of the world that is blessed with unique tourist attractions. Tourism is one of the major sources of income and revenue for many countries. countries like UAE, Ethiopia, Bahamas, etc. attract millions of dollars to their nation confers, courtesy of tourist visits.  It is quite unfortunate and sad that Nigeria as a country, blessed with beautiful landscapes, artifacts, and beautiful locations are not enjoying the huge benefits that come with tourism.
In this article, I will be sharing with you Six places in Northern and South-western parts of Nigeria, you will wish you were there right now!!
1) Olumo Rock, Ogun State
Have You ever visit Olumo rock? If not, you should go check the rock out and you will be left many days pondering over the wonders lavished on the earth that we are living in. It is located in Abeokuta which means "Under the Rock" in English.
The town itself has a considerable deposit of huge Rocky mountains, but the most thrilling of all is that of the Olumo rock. You would love to have a feel of nature there.
3) Yankari National Park, Bauchi state
This park is one of the most popular destinations for tourists in Nigeria. A lot of endangered animals that are hardly found anywhere in the country are existence at Yankari national park. You will get to see some animals you never dreamed were even in existence. The wonderful thing about the entire story is the way these animals are taken care of in large numbers like they have never been wild animals.
4) Idanre Hills, Ondo state
Top 9 Most Strange Looking Animals In The World (Photos)
This place consists of high plains with spectacular valleys interspersed with inselbergs ( isolated hills and mountains) of about 3,000 feet above sea level. its physical attributes include Owa's place, shrines, old court, belfry, Agboogun footprint, thunder water ( Omi Aopara), and burial mounds. There is also the Arun river which is believed to heal any kind of diseases.
5) Chad Basin National Park, Yobe/Borno state
This place is also called The Haven of Various Species of Pale Arctic. Why, because you haven't seen it all until you see the range of species that this place boasts. Myriads of tourists from foreign tourists troop to this side from time to time.
6) Old Oyo National Park, Oyo State.
If you love and cherish archeology and the ancients, then visit the old Oyo National Park, a place where history blended with culture in the most captivating manners. The park consists of high forest and dense Savannah mosaic woodlands that make the ecosystem unique and also offer the best atmosphere for relaxation, adventure, and sightseeing. There are also animals like baboons, bush dogs, Buffaloes, etc. It is also one of the best places for bird watching.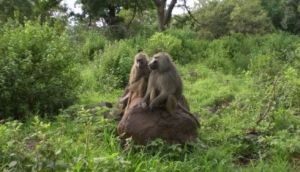 Not Even A Lion: Here Is The Most "Fearless" Animal In The World
Comments
comments