Chioma Rowland, celebrity chef and fiancée of pop singer, Davido, has clashed with an Instagram user after she referred to Davido as her husband.
Chioma shared a picture of Davido receiving a plaque from Sony Music Entertainment on Instagram late Monday.
Following the news that Davido's album 'A good time' has gone platinum, Chioma reacted to the moment as she gushed over her soon-to-be husband.
The chef had tagged Davido as her husband, only to be reminded that she is merely the mother of his child as the couple have not gone beyond the introduction stage.
She captioned it: "So proud of my husband 😍🥰 Congrats baby. @davidoofficial."
READ ALSO: The Moment Davido Knelt Down To K**l The Break-Up Rumour (Video)
Displeased by her caption, an Instagram user wrote in the comment section: "They never marry you oo, na only introduction you do babe."
The mother of one hit back, saying: "I said wtf I said! MY HUSBAND!"
Reacting to that, she stamped her statement even more as Davido also called her "Iyawo Mi"
Davido formally proposed to Chioma at a dinner held in a London restaurant in September 2019. The lovebirds made their relationship public when Chioma celebrated her 23rd birthday in 2018. The two, who plan to get married this year, welcomed their first child in October 2019.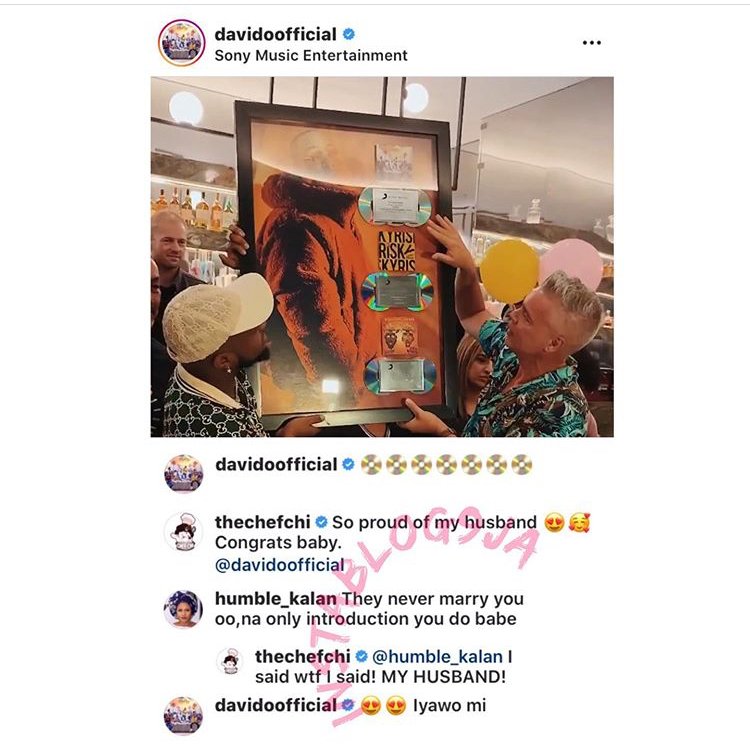 Follow us on, Facebook
Comments
comments