We often hear Nigerian artistes discuss how difficult it was to follow their dreams especially in Africa where parents are the mission maker and decider of everyone's general direction in life.
While some gave in to their parent's pressure and allowed their talents to waste, others disobeyed their parents with joy and today has won back their hearts as a result of fame which comes with a large bank balance.
Here are 5 Nigerian artistes whose parents disapproved of their career choices.
Nigerian Artiste:  Wizkid

Ayodeji Ibrahim Balogun, popularly known as Wizkid, was born to Dolapo Jane Balogun and Alhaji Muniru Olatunji Balogun on July 16, 1990, in Surulere, Lagos.
He started recording in music studios at the age of 11 as a rapper called Lil Prinz. Initially a student of Lagos State University but later transferred to Leads City University after he got his first legit contract with Empire Mates Entertainment (E.M.E.) boss, Banky W, when he was 19.
While you're here see: Five Most Wicked Tribes in Nigeria
In several interviews, Wizkid has been known to comment on his father's disapproval of his career choice. He alleged that he and his father fought regularly and his dad would occasionally admonish him to stay home and study rather than go to the studio.
Both parents did not entertain the idea of Wizkid ditching the academic path for music. According to him, his father was heartbroken and disappointed.
However, as Star boi's dreams have become a reality and his career still flourishing, his father has come to be extremely proud of his son's success. "Who is their Zaddy now."
 Naeto C

Naetochukwu Chikwe, a rapper, afro-beats artiste and record producer with the stage name of Naeto C was born on 17th December 1982 in Houston, Texas in the U.S.A. to Chief Herbert Chikwe and Dr. Kema Chikwe.
Dr. Kema Chikwe was once appointed Minister of Transport and then Aviation by the erstwhile president, Chief Olusegun Obasanjo. The history of Naeto C's family background already tells why he lacked parental support at the early start of his career.
According to an interview with Hip TV in 2014, he revealed that his parents did not fancy the idea of delving into the music industry when he first started. He asserted that both parents did not consider a music career to be a sustainable one based on the fact that the Nigerian music industry was not advanced at the time.
He claimed he was not encouraged to pursue music because the prospects at the time, with regards to the opportunities he already had, were "not attractive."
In his prime, Naeto C won the Best New Musician at the 2008 MTV Africa Music Awards and the Video of the Year category at the 2009 Channel O Music Video Awards. He has worked with several reputable musicians across the continent and is happily married to his lovely wife, Nicole Chikwe. Their marriage has been blessed with two kids.
Nigerian Artiste:  D'banj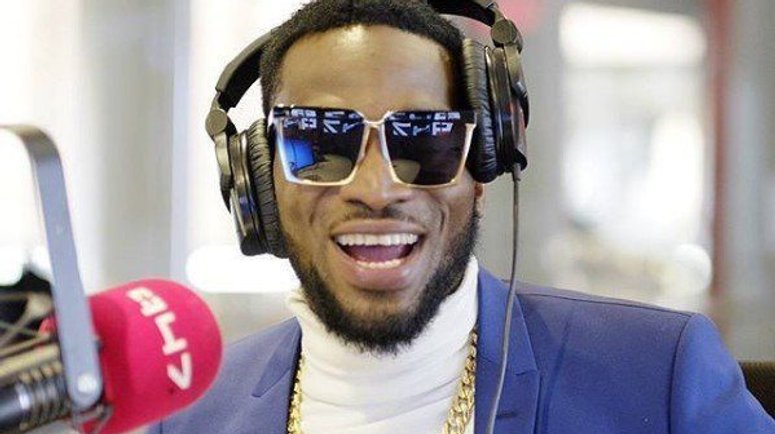 International Musician, singer-songwriter, entrepreneur and television personality, Oladapo Daniel Oyebanjo, popularly known as D'banj was born 9 June 1980 in Zaria, Kaduna State, to Daniel Duro Oyebanjo, a military general and Faith Olubukolola Oyebanjo, a businesswoman.
The strict household he was brought up in did not restrict his ambitions. Given the kind of professions that both his mom and dad practised it's clear why he did not get the initial support needed for his career although, his parents quickly had a change of heart for him as opposed to the story of others.
He was enrolled in Military school a couple of times by his parents before he finished high school. He dropped out from Lagos State University after which he found himself in London where he met DJ Don Jazzy in 2001.
Years later, D'Banj gained the support and attention of the American rapper, Kanye West, who signed both D'Banj and Don Jazzy to his music label, G.O.O.D Music. Although the two (D'banj and Don Jazzy) have split and have gone their separate ways.
 Falz

Folarin Falana, known popularly as Falz or Falz 'The Bahd Guy' is a singer-songwriter, rapper, actor, TV presenter. Falz was born in Mushin, Lagos to renowned lawyers Femi and Funmi Falana who are both Senior Advocates of Nigeria (SAN). Femi Falana was once the lawyer to the late Fela Anikulapo-Kuti.
Falz studied in the University of Reading in the United Kingdom. Then he returned to Nigeria and went to the Nigerian Law School, Abuja and aced his bar exams. Falz story is similar to that of Fela's being that they both are from families with renowned professionals.
Both their parents were opposed to their career choice. Fela chose to study music whereas his parents wanted him to become a medical doctor. Falz trailed the same path although his parents preferred for him to become a lawyer just like they both are. With little effort, he was able to convince his father subtly but couldn't do the same with his mom as she had her reservations.
Femi Falana, as a guest speaker at a valedictory service, asserted that she initially struggled to accept the choices of their children who decided to practice other professions aside from law.
But, as time went on both parents developed an interest in the affairs of Falz and are very proud of his achievements as an all-around entertainer. Today, the sensational artiste and actor have won a series of awards ranging from the Headies to City People Awards including the award of 'Best Supporting Actor' in AMVCA, twice!!
Nigerian Artiste: 9ice
Gongo Aso Crooner, Abolore Ajifolajifaola Adegbola Akande, a.k.a. 9ice, born on 17 January 1980, was brought up in a polygamous home of five wives and nine children.
His story is entirely different from the others in that his parents were not even aware of his talent until a much later period. As the first child, he was overwhelmed with responsibility and made a lot of choices for his younger ones.
He was admitted to study law at the Lagos State University, LASU, but eventually dropped out to focus entirely on a career in music.
9ice once disclosed in a radio interview that he even used money meant to purchase a JAMB form for his younger sister, to record music, although he made the money back, as he says. After gaining fame in 2005, he goes on to drop his hit 'Gongo Aso' which made waves across the African music scene.
Today, he is a multi-award winning artist and has even participated in politics. He expressed his intention to run for a political office as a State House Representatives member for Oyo State in 2014. He vied for the seat under the aegis of APC and lost in the primaries.
Although, he was appointed Special Adviser to the governor of Oyo state, Abiola Ajimobi in 2015. He recently explained that he would ignore politics temporarily and concentrate on music till "Nigeria is ready" as he said. Another election has passed and 9ice did not contest for any post. Maybe Nigeria is not ready yet
Comments
comments
Post Disclaimer
The opinions, beliefs and viewpoints expressed by the author and forum participants on this website do not necessarily reflect the opinions, beliefs and viewpoints of Anaedo Online or official policies of the Anaedo Online.